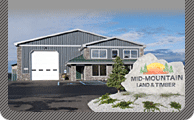 Properties for Sale or Lease
Lot size: 88' x 290'

Building Size: 48' x 120'

Shop: 5,085 sq. ft.

Lower office: 675 sq. ft.

Upper office: 675 sq. ft.

Total: 6,435 sq. ft.
Building Features:

1,350 sq. ft. of nicely finished office space with central air.
Front, lower office area is accented with a tile entry and includes a built in counter and reception desk.
The lower level also includes one office, a small kitchen area, and a bathroom with a shower. All offices are carpeted.
Second level has two large offices with a window viewing into the shop area.
A low maintenance, multi-purpose building with top quality steel siding and steel standing seamed roof.
17' high ceilings, in a well lit shop area.
Two 15' high by 14' wide insulated overhead doors.
Wood framed construction on a concrete foundation with a 5" reinforced concrete floor.
Shop area has a handicapped ½ bath.
Natural gas heat throughout.
5/8" drywall throughout office and shop area, textured and painted.
Insulation in attic is R38, walls are R19.
3-phase power is available.
Paved parking, and landscaped with automatic sprinklers.